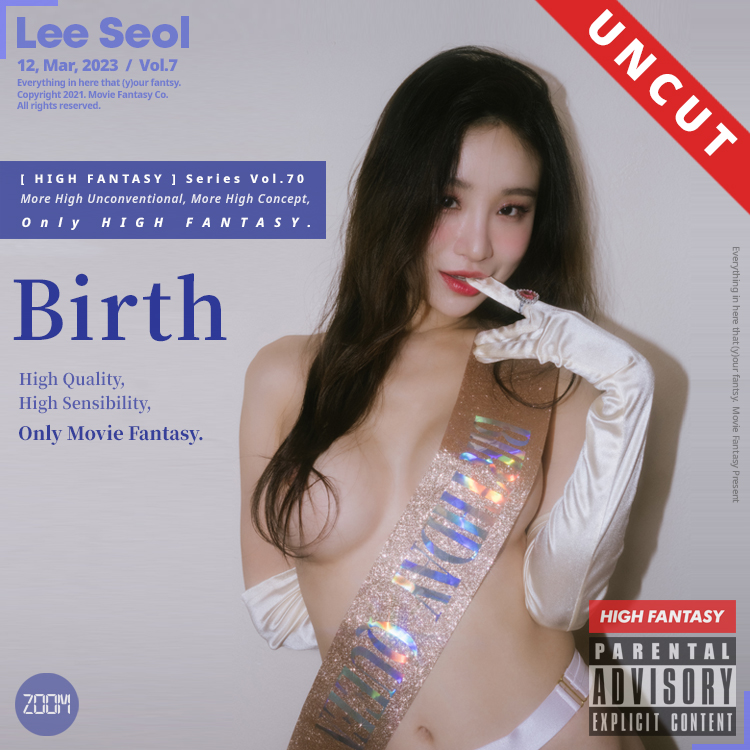 [H.F] Lee Seol_Vol.7 Birth_UNCUT
Selling price open to members
There is an error in the payment using PayPal.
But you can pay at the Gumroad link below.
> Link
https://moviefantasykr.gumroad.com/l/leeseol7
this is Movie Fantasy model 'Lee Seol''s seventh digital photo book, 'Birth'.
photographed by 'zoom'
Here's Her Brilliant Birthday! 'Lee Seol!'
Thank you for being born, Lee Seol.
To celebrate her birthday, we prepared a more bling and shiny semi-nood photo book.
Get Lee Seol's 7th album 'Birth' right now!
※ If you purchase a digital photo book, you can check the original version regardless of the blurring or mosaic of the sample image! ※
- Product number : 230312mfl1628h70u23
- Resolution&File quantity : It consists of 47 photo files of up to 6720px * 4480px size
- File capacity : One compressed file (zip) with 47 photo files(jpg) 499Mb
- Remarks
※ All works of 'Movie Fantasy' are in 'Movie Fantasy' under copyright law, and in no case can be copied, redistributed, or stolen without permission, and civil and criminal legal punishment may proceed if they are violated.
※ All digital photo books of 'Movie Fantasy' are digital content products that buyers can download photo files (jpg), not paper book pictorials.
※ All digital photo books of 'Movie Fantasy' can be downloaded from the website after payment is completed. After payment is completed, the download period is limited to 30 days and the number of downloads is limited to 10.
※ All digital photo books of 'Movie Fantasy' cannot be canceled, refunded, or returned due to the nature of the product. Please purchase carefully.
This is the seventy photo book of Movie Fantasy [HIGH FANTASY] series.
♥ [HIGH FANTASY] Introduction to the series digital photo book ♥
Among the digital photo books released in 'Movie Fantasy',
[HIGH FANTASY] This is a guide to the series of digital photo books.
[HIGH FANTASY] The series digital photo book is...
More than the basic series of pictorials of 'Movie Fantasy',
It's a digital photo book with unconventional settings and high levels of concept and exposure.
For information on the exposure level, please refer to the sample image of the digital photo book and the link to Movie Fantasy YouTube Link(Click)
It was produced by reflecting your opinions on wanting to have a deeper connection with 'Movie Fantasy'.
Please look forward to and support the works of 'Movie Fantasy', which reflect your valuable opinions.